Climate Smart Agriculture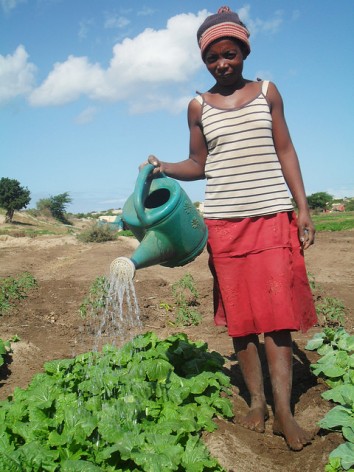 [adsense_inserter id="1868"]
As a result of farmers embracing Climate Smart Agriculture, some fields are still green and alive even as drought rages in the south of Madagascar. Credit: Miriam Gathigah/IPS
AMBOASARY, Madagascar, Aug 4 2016 (IPS) – Mirantsoa Faniry Rakotomalala is different from most farmers in the Greater South of Madagascar, who are devastated after losing an estimated 80 percent of their crops during the recent May/June harvesting season to the ongoing drought here, said to be the most severe in 35 years.
She lives in Tsarampioke village in Berenty, Amboasary district in the Anosy region, which is one of the three most affected regions, the other two being Androy and Atsimo Andrefana.
FAO estimates that a quarter of the population – five million people – live in high risk disaster areas exposed to natural hazards and shocks such as droughts, floods and locust invasion.
"Most farms are dry, but ours has remained green and alive because we dug boreholes which are providing us with water to irrigate," she told IPS.
Timely interventions have changed her story from that of despair to expectation as she continues harvesting a variety of crops that she is currently growing at her father's farms.
Some of her sweet potatoes are already on the market.
Rakotomalala was approached by the U.N. Food and Agriculture Organisation (FAO) as one of the most vulnerable people in highly affected districts in the South where at least 80 percent of the villagers are farmers. They were then taken through training and encouraged to diversify their crops since most farmers here tend to favour maize.
"We are 16 in my group, all of us relatives because we all jointly own the land. It is a big land, more than two acres," she told IPS.
Although their form of irrigation is not sophisticated and involves drip irrigation using containers that hold five to 10 liters of water, it works – and her carrots, onions and cornflowers are flourishing.
"We were focusing on the challenges that have made it difficult for the farmers to withstand the ongoing drought and through simple but effective strategies, the farmers will have enough to eat and sell," says Patrice Talla, the FAO representative for the four Indian Ocean Islands: Madagascar, Comoros, Seychelles and Mauritius.
Read full story: IPS News