Adidas made an ocean-plastic shoe you can actually buy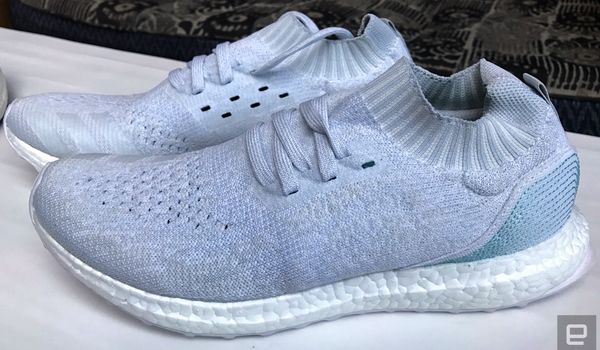 [adsense_inserter id="1868"]
Adidas made an ocean-plastic shoe!!!
Late last year, Adidas teamed up with Parley, an organization raising awareness against ocean pollution, to design a partially 3D-printed shoe made from up-cycled marine plastic. Then, in 2016, the two companies took that partnership one step further with the limited-edition Adidas x Parley, a running sneaker that also featured materials created from ocean waste. Ultimately, both of these concepts pave the way for what the sportswear giant is announcing today: the UltraBoost Uncaged Parley.
Unlike the Adidas x Parley Silhouette, where 100 pairs were given away through an Instagram contest, this one you'll actually have a chance to buy when it goes on sale next month for $200. All told, Adidas is making 7,000 pairs of the UltraBoost Uncaged Parley, and the company says it plans to produce at least a million pairs using ocean plastic by the end of 2017. It's yet another sign of Adidas' willingness to take risks, especially with sustainability innovations and emerging technologies like 3D printing.
This particular model is based on the UltraBoost Uncaged design, one of the brand's most popular running-meets-lifestyle shoes. The main difference here, however, is that the Parley version features a soft Primeknit upper built with 95 percent ocean plastic. Other parts, such the as shoelaces, heel cap, heel webbing and sock-liner, were also made from materials retrieved by Parley during coastal operations in the Maldives, according to Adidas.
Meanwhile, the midsole is all Adidas' Boost technology. That's the same foamy material found on its Yeezys, NMD and UltraBoost, the flagship running sneaker. The company says it had to develop the Uncaged Parley without compromising on performance, adding that the key was to keep every signature element of a running shoe. In other words, if you happen to get lucky with a pair, wear it like you would any other. Don't let those yarn fibers stop you.
View more information and more pictures: Engadget